45 Kings
18th February 2015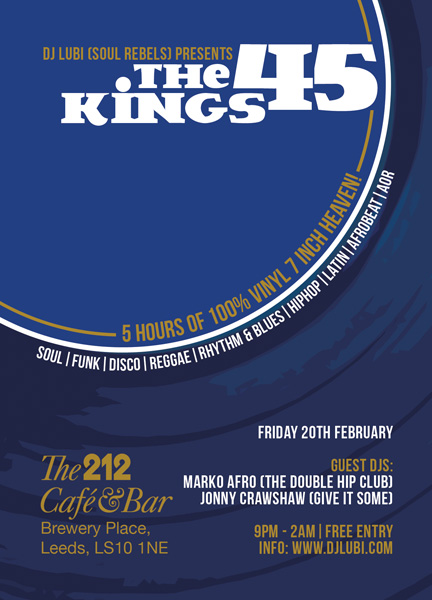 DJ Lubi Presents The 45 Kings
The 212 Cafe & Bar, Brewery Place, LS10 1NE
3rd Friday monthly (20th Feb/20th March/17th April etc)
9pm-2am
Strictly 45s across the board depending on guest DJs but broadly jazz, funk, soul, reggae, latin, rhythm & blues, ska, disco/boogie, Brazilian beats, hiphop, AOR, soundtracks....
Longtime Leeds jazz/soul/funk/salsa/global beats DJ and promoter Lubi Jovanovic (DIG Family/Straight No Chaser/Fania Records) started a stricly 45s jam with DJ mates back in 2010 at the small but cosy Sela Bar in the city. Aptly named The 45 Kings, it was just a bunch of mates bringing 1-2 boxes of 45s down, playing good music and drinking beer togther. It lasted about 6 months and then fizzled out due to other work commitments of the various DJs. The 45 Kings jam is for love not money....
In September 2014, Lubi revived the session at the new 212 Cafe & Bar in Brewery Place, Leeds, another tiny but comfy venue (80 capacity) but with a beautiful DJ booth and old school analogue sound system made for playing records.
Every third Friday monthly, Lubi and his DJ mates get together and play good music on 45rpm 7" vinyl. That's it. No hype, no fuss, just music. So far, guests have included all the DIG! Family brothers (Gip, Chico, Eric), Simon Kamstra (Outlaws Yacht Club), Jonny Crawshaw (Soul Provision/Give It Some), Mike Eastwood (Central Soul Club), Simon Harrison (Basic Soul Radio Show) and Jason Brown (Open Your Ears).
Coming up soon guests from Leeds' funk/soul institutions the Hifi Club and Smokestack. Keep on it with The 45 Kings Leeds jam by checking Lubi's website calendar at www.djlubi.com