Forty Five Corners No. 1 - Terry Cole of Colemine Records
13th January 2018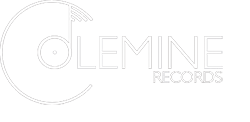 Forty Five Corners #1
Terry Cole - Colemine Records
Loveland, Ohio, USA

To launch the very first instalment of Forty Five Corners, it seemed entirely appropriate to start with a record label that has gone from strength to strength over the 10 years since its inception. Back in late 2007, a young man called Terry Cole from Middletown in Ohio, USA, dreamed up the idea of starting a label to primarily sell his band's first single – The Jive Turkeys 'Straight Fire' – rather than find a deal with an already established label. A smart move, as Colemine Records is now right up there as one of the best labels in the world right now for new jazz/soul/funk/afro-beat.
With a logo designed on a napkin in Subway, a day job as a high school biology teacher, Terry set about building the label and very quickly expanded, pulling in acts like Ikebe Shakedown, Monophonics, Jungle Fire, etc. and established Colemine as a serious musical concern. The output is pretty phenomenal to date and very much rooted in the golden era of funk and soul. If someone said to you that these records were made in 69-72, you wouldn't necessarily disagree. Capturing all the raw grit and raw soul you could wish for, Colemine's recordings are full of integrity and authenticity, just listen to the incredible 2017 release 'My God Has A Telephone' by the Flying Starts Of Brooklyn which bears testament to that.
But he didn't stop at just creating a record label, Colemine has gone on to open a bricks and mortar record store in Plaid Room Records, recording studio, performance space and reissue arm in Remined Records. Just like fellow contemporary label Daptone in New York, and indeed like classic soul/jazz labels in the 60s, having a central space to focus all ones creativity naturally produces fruits, and creates an identity and unique 'sound'. With records like Alan Evans, Delvon Lamarr and the forthcoming and amazing new records from Mestizo Beat and Black Market Brass, it's impossible to deny the understanding and pin sharp focus of Terry's critical ear. Colemine has achieved 'seal of approval' status; the quality control means every release is worthy and likely to make it into your crates.
With the bulk of the labels output getting released on 7", Colemine also have got into the long player game too, and developing bands (just like a proper label should!). I would happily suggest that if you were dreaming of setting up a label, then Colemine would be a perfect blueprint to follow. I caught up with label boss Terry Cole to get a little more insight to what's driving this thriving label and record store.
Many new labels come and go, yet your organic growth since 2008 has been a joy to observe. Has it taken you by surprise?
Yes and no. Yes because I certainly never would have foreseen myself quitting my day job teaching in order to run a record shop/label. But on the other hand, I've sort of had a vision for Colemine from the beginning and I've always had a hunch that it would get much bigger than it was in the beginning. The slow, organic growth has been key. Having a day job while I grew the label during the first 6-7 years was key for financial stability and to curate a qualitycatalog without feeling pressure to release a certain number of releases per year. The releases came very naturally and were never forced.
So did your students know your were moonlighting as a record label boss?
That's pretty liberal use of the word "boss" haha. But yeah, most of them knew I ran a halfway functional record label while I was teaching. I usually started the year by telling my students that I paid for both of my degrees by selling 78s on eBay. I tried to use it as an inspirational story so they felt like anyone could go to college and afford it if they hustled hard enough.
Naturally, the first 45 on the label was your own band The Jive Turkeys, when you released 'Straight Fire', you must have seen that as an important statement of intent. How many songs nearly made it onto the first single?
We recorded about 5 or 6 songs in the music room of a local elementary school during the summer. There were several tunes that we thought about, but what would become 'Straight Fire' was the clear winner to me. Although I really knew nothing about production at that point and looking back, I kind of think that 45 is pretty weak hahaha.
It's been a few years now since the last Jive Turkey's release. Is it the case that you're now too busy to be in a band, or can we expect some more from you on vinyl?
Well, The Jive Turkeys were my friends from college and we are all sort of geographically dispersed nowadays, plus we've all sort of gone in different directions stylistically. So those recordings will be just that, a record of something that happen one time. However, I've been pretty busy producing records, creating artwork, and running the label. My main project now is working with Leroi Conroy.
Do you prefer the production side of the mixing desk now, or is it the case that circumstance simply drove you into that role?
I love the production side, but I still play a lot of different instruments on the Leroi Conroy stuff. I usually play bass, guitar, keys, etc. and my buddy Rob Houk from The Jive Turkeys plays drums.
It didn't take long for the label to release music from other bands with the excellent Ikebe Shakedown's first single dropping just the following year after your first release, how did you connect up with them?
I knew Tom Brenneck (Budos Band, Sharon Jones, Charles Bradley, Menahan Street Band) from running a radio show in college. I had reached out to him when I started Colemine as he had just started his Dunham imprint of Daptone. I really loved Tom's productions and just wanted to essentially ask him, "How do you run a label?" He was super helpful and when he produced Ikebe Shakedown's debut EP and they needed a label home, he hit me up. And that was that.
Monophonics' 'Like Yesterday' in 2011 for me was a very significant single in the respect that it really solidified the labels breadth and stamp of quality, you must have been over the moon when that demo appeared?
I completely agree. I met Kelly Finnigan through a mutual friend who thought we had similar tastes. They were dead on. Kelly had just joined Monophonics and they had recently recorded 'Like Yesterday' and sent it my way. I distinctly remember asking if the song had samples. I was blown away.
What is it that you look for when signing acts?
I'd say that number one thing is still the music. And beyond the actual notes being played or sung, I'd say production style is just as important. Everything on Colemine has a particular aesthetic or vibe, and sometimes I even struggle to pinpoint what is Colemine and what isn't Colemine, but I know it when I hear it. All that being said, we are flexible when it comes to other aspects of being a recording artist. We'll sign non-touring bands, studio projects, touring groups, made up groups, etc. We just have to adjust our expectations for each project and work strategically to make sure each project is still successful.
I understand that for sure, it's intangible, yet I guess it's where your instinct takes over. Do you tend to trust those instincts implicitly, or have you got a trusted ear or 2 to run things by, just to make sure it's 'Colemine'?!
Bob is my other set of ears. He's half of the company so I always run everything by him. Sometimes I like to sneak it up on him. I'll play it in the shop while we are both working to get an honest reaction out of him. But sometimes it takes time for each of us to come around on things. I'd say Kelly Finnigan is my other guy I bounce things off of when something new is done. He's got a great ear and we have very similar tastes.
The Jam Scene in the USA is very healthy, how often do you get out to see bands and how far will your travel?
Honestly, the last few years have been pretty busy for my brother Bob and I. We both work around 80 hours a week at the shop/label. So when we take time off, we usually go to the middle of nowhere to camp, canoe, hike, etc. Of course when groups on the label are coming through town, we always make a point to go out and see them.
I guess the chances of running into a wicked organ jazz combo whilst canoeing down a river is unlikely! So most of your signings come through demos, contacts etc?
Yeah, most of our signings come pretty organically through mutual friends, contacts, etc. Although every once in a while they seemingly come from nowhere, most know someone that we know and they've usually heard good things about our work.
Durand Jones & The Indications was a wonderful signing in 2015, with the amazing album coming out mid- 2016. Is this now the blueprint of Colemine's direction, 45s and LPs? How do you see your role in developing bands?
I would absolutely say that's the blueprint. Running a successful record shop is the best education on how to run a successful record label, so we are feeling more and more confident with each LP we release. And we are becoming more purposeful with our strategies as well. I think my role is to gauge an artist's goals and expectations and put them in the best position to reach those goals. That might mean finding them a manger, a publicist, a booking agent, or maybe just showing them how to grow their own brand. Each artist and project is different. But we know what our skills are, as well our weaknesses. So we know when to keep a task in house and when to delegate elsewhere, which I think is a key to being able to successfully grow a business.
Which five of your 45s really say 'Colemine' to you?
Whoo! That's tough! Well the easy answer is all of them! But if I had to pick a handful that embody our spirit, I'd say: The Jive Turkeys 'BA'
Monophonics 'Like Yesterday'
Jungle Fire 'Comencemos'
Fat Night 'Things You Do'
and Orgone 'Strike'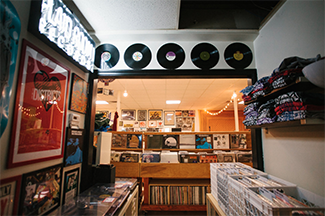 Tell me about the bricks and mortar record store; was that always in the plan?
Absolutely not. It was never the plan. Since I had summers off, I spent the summer of 2014 driving around the country going to record stores and trying to charm them into stocking our product. Then in the fall of 2014, I became a little frustrated at the high school I was teaching at and thought, "What the hell? I'll go do something else." So I was trying to think of a way to transition to Colemine full-time and a record store as a front become the most viable answer. And I had just seen 90-100 examples of what a successful record store looked like, so I had a lot of ideas going into our shop.

The best aspects of a 100 record stores eh?! Makes wonder if it's the best store on earth, have you done anything in the store to make it unique?
I think every record store is certainly unique in its own way. And we are constantly trying to evolve our shop to be better and better. We are currently in negotiations to purchase a rather large building in order to expand what we are doing. I think the most unique things about Plaid Room center around owning and operating Colemine….plus we have a liquor license. (Ed. Can't argue with that!)

Having a central base with studios and venue must be such a creative arena, and very appealing to bands that want to sign to you?
For sure. One of the coolest things about having the shop is that we can immediately test out any new tunes on our customers without them even knowing. We can record them at night, and then play the rough mixes the next day to sort of gauge the initial reaction of folks. It's really fun. There's no better feeling than getting people asking what we are playing when it's something that we just finished up. And that sort of confirmation really encourages us. Once we see folks light up when they hear something, it sort of lights a fire in us and confirms what we had already thought. Not that we need confirmation, but it never hurts.
So what's forthcoming in 2018?
To be blunt, a lot. We have at least 8 LPs planned for this year right now, with more that will probably finish up soon. Orgone's Mixtape, Delvon Lamarr, a couple of special RSD LPs, Ben Pirani, Jr. Thomas, Black Market Brass, Leroi Conroy, some killer reissue LPs, plus at least 20 or so 45s. Our keyword this year is: unrelenting.
Wow, that is a hefty release schedule. It can't be just you and Bob surely, have you built a team up over the years?
For the most part it's just Bob and I. But we certainly have some assistance from our younger brother David (who will be a full-time employee here soon) and the rest of our family. Plus we have established some great partnerships over the years with regard to our distribution (physically and digitally), our publishing, our sync licensing team, PR, etc. Bob and I have some very specific skill sets that compliment each other well allowing us to avoid hiring many people. But as we continue to grow, we'll hopefully be delegating some of the more boring tasks over time.
Classically styled 45s make up the majority of the labels output, which suggests to me that you already had a love affair with the 7" single. Were you a serious collector first?
Not really a serious collector. I've always been a pretty casual collector. We grew up in a house full of LPs, 45s, and 78s. There was never a time when we had less than 50,000 records in our house, so I guess that sort of numbed the collecting bug in me a bit. Plus now that we have a store and we see so many records everyday, I'm pretty good at letting go of records.
50,000!!! So your dad or mom were serious collectors then?
My dad was and is a pretty serious collector. His thing was 50s R&B andDoo-Wop, but over the years he just sort of gobbled up collections. Some might call it hoarding. I might call it hoarding, but in the end without that I wouldn't have been able to finance my college education and I wouldn't have gained the intense musical education that I received all throughout my childhood.
I guess that was the musical bedrock from which everything began. Are your folks proud (and not disappointed that your high school teacher career is over/on hold)?
They're certainly very proud. My mom was an elementary school secretary in the same district that I taught so she understands the unique difficulties of teaching there. But they both come to the shop all the time and our mom is perhaps the most efficient worker that has ever lived. Whenever we go to ship all of our retail orders, she's the one we look to. I'd say she could wrap about 10 records in the time our dad can wrap 1. And I make sure he knows it when he's here too hahaha.
Amazing, a real family buiness then, love that! Lastly, many, if not all states across the US have their own musical heritage, yet Ohio is a famed state for soul and funk, what is it about this region that has incubated so much soul?
I think it's mostly geography. Ohio is sort of a crossroads between the east, the north, and the south. Cincinnati in particular is right on the Ohio River and sort of acts as the divider between the north and the south. I think the key word is incubate. Ohio has a rich history of gospel, blues, country, folk, and with all of that richness and diversity, it only makes sense that some of the best soul and funk has come from Ohio.
Amen to that!
Big thanks to Terry for taking the time to talk to me.
Look out for Forty Five Corners #2 coming very soon.
Pete Isaac - January 2018
Pictures: Whitney Pelfrey of Native Iris Photography
Links
BUY ON JUNO
Colemine Records
Plaid Room Records
Colemine Facebook
Colemine Instagram
Colemine Twitter