Forty Five Corners No. 2 - Ernesto Chahoud
16th January 2018
45 Corners #2
DJ Ernesto Chahoud
Beirut, Lebanon
I met and DJ'd with Ernesto a few years back in the Lebanon, it was quite the experience. You won't find another DJ with as much character and passion as his, and coupled with his insatiable drive for digging obscure music you have in him a truly unique force, there's no other way to describe him.
His character is due in part to his physical location and personal history. Born in West Beirut in 1981, it was to be a young life marred by war, invasion, political and religious turmoil all around him, very challenging conditions indeed. But the human spirit is strong, and however one is surrounded in chaos, people will always find sanctuary in music, you will find that the world over where rampant governments are doing their utmost to mess things up. People will always do their best to have a good time and rescue their culture from the hands of tyrants and warmongers, and when the war is over, dancing is always one of the first things to happen.
My one trip to the Lebanon was real eye opener having grown up in a benign rural Devonshire in the UK. I could plainly see real determination in many if not all of the people I met, and in Ernesto, a powerful distillation of the human condition. Full of love, passion and a desire to share it armed with the perfect conduit, MUSIC! And boy oh boy does he have some music. A rabid 7" digger and collector, he is famed for unearthing lost treaures and obscurities from the middle east, Africa and beyond, as well as a having an authoritative grasp of US soul/funk 45s.
Witnessing Ernesto in full DJ flow will blow your mind as well as totally entertain you. You'll be taken to distant shores and be filled with discovery and wonder, as long as you keep an open mind.
In order to best understand Ernesto's passion, we need to hear it in his own words….
As you were growing up, how did music become such an integral part of your being?
As you may know by now sir, I was born into a communist family in the middle of the Lebanese civil war. My father was a militant in the Communist Party; our house would be full of communist and Palestinian militants and also intellectuals and musicians too! Basically the Communist party alongside the P.L.O and the socialist party was part of a national liberation movement against the Israeli occupation and the sectarian regime in Lebanon. I am only mentioning this, to say that music consisted an essential part of me growing up in such an environment because it was also part of this liberation movement. I was too young to fight with arms so I was hooked on protest and engaged songs and music, that carried the same cause as us, and it didn't matter were it came from.
I was raised in a house where Ziad Rahbani used to come often to drink with my dad, same for Khaled el Haber and Sami Hawat and many other lesser known but good engaged musicians. Some of them became my friends later. I was brought up in a house with music by all of them and of course with tapes by Sheikh Imam, Fairuz, Abed al Wahab, Oum Kolthoum, Asmahan and loads of classical Arabic music.
My dad loved to party, drink and eat with his friends. So music was played during his festive meetings, and these drinking nights happened very often. When music was not played by my family, I used to play it myself. I guess I was born into it and naturally became a part of my being, especially because my dad had a communist bar too. Not only this, but this eclecticism that I was exposed to when I was a kid didn't allow boundaries nor obstacles to grow. I guess that was one of the best elements that I was born into that later became a backbone of my music quest!
Was a lot of that music ideologically driven? Was there a lot of protest music?
Of course. The best music back then was the protest and ideological one. The major Lebanese engaged artists are Ziad Rahbani, Marcel Khalifa, Khaled el Haber, Firkat el Ard, Sami Hawat and many others back then. Most of the those artists made it 'big' among diggers and music connoisseurs internationally! And of course Sheikh Imam from Egypt, Firkat Al Tarik from Iraq just to name few.
At what point did you determine that you needed to share that music by becoming a DJ? And how did you start things off?
That's a good question actually, I never thought of it before. But now since you are asking, I do see it clearly. After the war was over we had to drop the arms and go back to Beirut. The peace process started. I had to leave the small beach town we were living in forever. This small town was a stronghold for the Communist Party, everyone who was living there basically had a similar mind set. When I went to Beirut, at school, not all my new friends were not into the same music I was into. I also started exploring music seriously and consciously, by hitting record stores in Beirut that been there for ages and were waiting to be taking out by the peace processes developing properties hahaha. They took them all down. Sadly, some record stores that were there since the 60's survived the civil war but not the peace process. I used to spend long hours there, listening to almost everything they had. So many records I didn't know and I wanted to explore. Natural instinct sir! My friends and family thought I was a bit weird hahaa. Also, I used to chase the street tapes sellers; they use to have a boom box on their trolley playing the latest releases out loud. I used to buy whatever I thought was exciting to me.
After a while I started inviting my friends over at the weekends to play them what I was buying! I think those weekends in my bedroom with my friends drinking and playing my tapes and records that I had recently found was the beginning of me sharing music. After a while we found a small pub attached to a three star hotel, the son of the owner was part of our circle of friends so they gave us Tuesday nights secretly. We could play our music and they would serve for us drinks. We were underage kids, can't have drinks anywhere except at this bar! It all started there I guess, until I was getting paid for my services as a DJ. It was not before 16 years old!!! That's a long time ago.
What kind of records were you digging and playing out in those early days?
To be honest with you I was very much into 60s rhythm and blues like Cream, The Yardbirds, The Beatles, The Rolling Stones, Fleetwood Mac with Peter green, John Mayall, a bit of Dr. John and loads of John Lee Hooker and Freddie King. Then a good friend of my dad who's a Norwegian diplomat called Martin Yittervik introduced me to jazz with John Coltrane and a new journey started in the endless world of jazz that lasted for 15 years!! Didn't disappear yet, but it's faded in a way.
Was it hard to find music there?
It was hard to find music of course. Plus my knowledge was close to none! I would buy anything I found interesting from the artwork or because I heard about it or read about it and take it home, loads of disappointments!!!

Did you venture to close neighbours to dig for records, Syria, Israel, Turkey etc or was that physically/politically impossible?
In the region Beirut is the top city for digging, even internationally you can put Beirut in the top cities to look for records just because in the 60s and early seventies before the war all big record companies they had deals with Lebanese pressing plants and local record labels to do Lebanese pressings! Most of the records that were released during these times by these international labels were pressed in Lebanon too, from major artists to the most obscure ones, from hit records to Lebanese only and limited editions. Because Beirut was a hub in the region, don't forget we used to be called Swiss of the orient and Paris of the Orient. The Beatles had a stop in Beirut when they were on the famous world tour they did. The Kinks also played here. Lebanon played the role of the music center of the region since the forties, Ella (Fitzgerald) played here, Charles Mingus, Dizzy, Miles and many others, Beirut still plays this role till today. However I went to syria, to Allepo because I heard that they had few record stores there in the Armenian quartier but big disappointment. I went to Istanbul many times, I was basically after Turkish records and it was a big success but that was years ago. Occupied Paletlstine I have never been to, because we are in a state of war with Israel. Don't forget that they occupied our land for 30 years. I was born the year they invaded Beirut. I witnessed 6 wars with them, where they destroyed all of my country and massacred us. But of course I have loads of Palestinian music and I love it so much!

At some point all collectors widen their horizons on where to locate records, where did you turn to first?
The few old record stores that were waiting to be destroyed! The flea market was a big source. At that time CDs came out and people started throwing all of their records. I used to hit the flea market and get loads of them for 50p each. At that price I was ready to be adventurous ha ha ha. Loads of them now worth 100's and 1000's!!! I was a lucky bastard ha ha ha.
So your digging has have taken you to many varied places, how many continents have you got to so far? And how do you go about the process, do you try and make contacts or literally just head into the wild to see what you can find?
It took me to Cairo few times; the first time was 8 years ago!! It also took me to Ethiopia!!! These were the most exciting places it took me. I was too late for Europe, it was not very exciting to me. Now it is taking me to Sudan! I never had any contacts, when I had a list of them they were all long gone. I learned not to bother making a list when hitting Africa for records. I have been doing it for a little while now; I just have an instinct that I follow! I can't really explain how but I have been to the craziest places and with the maddest people ever. It was just as exciting as it was dangerous and it will always be I guess.
I can imagine! I went to find a record shop in Oakland, California once. Getting the bus there, the bus driver asked me 'where are you from?, 'England' I say, 'oh ok, and where are you going?' she replied…I told her the name of the shop and she went on to say "I'll drop you outside the door, and get a cab back'! That's probably where I most felt unsafe, it was a pretty rough neighbourhood (I got some great records btw!). So what's maddest place you've ended up in then?
Hahahahaha!! That's a funny one! I have been to only mad experiences from Cairo, Syria, Lebanon and of course Ethiopia etc… but In Ethiopia the whole thing was dangerous not because Addis Ababa is dangerous, but because where I was staying was the most dangerous area in Addis, an authentic African ghetto run by a corrupt police station. I ended up there by accident and if I didn't stay there I wouldn't have found any records!
It was when I decided to hit Ethiopia looking for records. I didn't know anyone there, I jumped on a plane after booking me the cheapest hotel in Addis Abeba, or what you can call Addis freaking Abeba. I landed and walked outside the airport and here I am instantly in the city. I took the bus directly to piazza, the old downtown, where my hotel is located. Nice hotel built by emperor Menelik for his wife taihtu who was the commander of the Ethiopian army. I stepped out of the bus and walked down in a very grimy, busy rundown street towards Taihtu hotel.. I looked up to see that it was completely burned down. Fire ate it all while I was on the plane. The smell was so strong as of I was in my war comfort zone. Hahaha, however they managed to sort me out with a not completely burned down room. At night the street turns into a big brothel, gangs filled area , drug dealers and addicts hustlers and crazy dives where the police split the money with drug dealers and pimps. I was the only non Ethiopian in that street. Felt so proud. You could see people having sheets on the sidewalks where customers can go behind for a quick sexual fix after 10 at night. Crazy wild street indeed. Next day I went to look for my addresses they were all closed down. I had to ask the police to show me The way back to my hotel, after they walked with me back, they grabbed me by my shirt asking for money..... hahahahahaha, the next day I went and sort me a nice cheap gun from Ghandi street where the black market is, and my digging trip started.
Your net is cast obviously very wide, but where does your heart lay right now in 2018, what country or region are you currently digging the most in?
As you know I have been digging Ethiopian music for a while and my compilation is coming out as a result of this quest. Now I am very much into Sudanese music, and I think it will be my next destination very soon. I am also digging a lot of 60's Garage and playing loads of it! I am finding it super exciting and kids in clubs are loving it.
So your Ethiopian compilation that's coming with BBE, tell me more about that. Is it filled with 7" tracks?
It is a triple LP actually and of course it is strictly obscure 7" from the late 60's and 70's. I called it Taitu after the hotel where I was staying, it was built by emperor Menelik II for his wife Taitu, he was the commander of the army. It was the first hotel in all of Ethiopia.

The compilation covers a wide variety of Ethiopian music from the most interesting period of this music. It covers the fusion of Ethiopian music with jazz, what we call now Ethio-jazz and Ethiopian funk where you can hear strong influences of James Brown and an amazing and unique blend of this influence with Ethiopian music, it does also cover traditional clappers that were reinvented in a very modern and experimental way, and some great soulful ballads too. It's a very nice journey if you are open minded sir! Hopefully you will enjoy it.

What is it for you that drives your passion for 7s?
At thebeginning it was the weight. Easier, lighter and sharper! Plus who wants to carry a box of LPS to the club when you are doing 60s clubbing music!!!

How much importance do you place on what is essentially your role as an archivist, and is that more significant than being a DJ?
That's an interesting one!! Woot woot… I always saw myself as a DJ. However I always wanted to be a DJ with a unique sounding box. I hated and I still hate playing records that have been played by others. I want to find my own sound that works on the dance floor. Basically what are you calling archiving now, was ignited by the thrill of finding unique, unheard and obscure clubbing records that none else has. Archiving V's DJing. Let's take for example my Ethiopian compilation, 80% of it is clubbing music from 60's and 70's Ethiopia. And I toured with my Ethiopian records in Europe and China and some other cities in the region with my good friend and DJ partner J.J. Whitefield of The Poets of Rhythm who's a great DJ and super digger as you know, J.J. was originally one of the pioneers of deep funk music in the 90's. For a while now, he's been into Ethiopian music along other genres of course, we toured and now touring again with Ethiopian records in clubs for young kids and they love it! Would I call it archiving or DJing.!!?! I think it is both! Archiving doesn't have to be looking for boring folkloric music in the sense of ethnic music, finding early forms of music from different civilizations.

In modern times clubbing music unified different civilizations and brought it closer to each other. International Clubbing music is old enough and fully-fledged to be dug out as modern and contemporary music! In the latesixties music started traveling and breaking boundaries! It matured enough now to dig it deeper and exposed it to young kids. Loads of great experimentation in clubbing music all around the world are hidden there that sounds much better, way better than the empty commercial current clubbing music! Let's dig it!

I guess I mean a musicologist rather than an archivist. Many DJs go only so far into whatever genre they are into, but people like you go so unbelievably deep and literally rescue music that might otherwise be lost forever. This makes you an important DJ in that sense, so rather than just finding obscure music for the dancefloor, this aspect of unearthing lost music to re-introduce is important to you?
Of couse!!! I thought that what DJs are meant to do hahaha! Bad joke I guess. This is exactly what I would like to do, I don't succeed all the time, but when I do it gives me a particular thrill, a very inspiring one that I only get it from this specific act. It is vital for me sir.
Tell me about the scene right now in Lebanon, what are you up to?
The scene in Beirut is healthy and not healthy at the same time. You have the biggest clubs in the region for mainstream music of house and techno. The main clubbing music in here is unfortunately coexisting with few alternative and underground clubs like Yukunkun and of course the Back Door where we are doing our weekly club night as the Beirut Groove collective! You can find both sides sir! I do like our nights, these are my favourites and Beirut been a home for it for such a long time. Can't complain.
Is there anyone else there that goes as deep as you?
Indeed! Keb darge is one, J.J. Whitefield is one, Egon, Jannis Strütz aka Habibi Funk is a doing great job and also Sami Benregeb did amazing work in Somalia and Guy Dermossessian a lesser known and underrated digger.
I meant DJs in Beirut? Are you the Lebanese digging king?!
Hahahahah Lebanese digging king!!! What about the region!!! Is there any others! I know it sounds pretentious, but sadly not too many are into records in general and lesser who are in it seriously and almost zero who are in it for the music! It does make it easy to be a king when there isnt any competition! Lonely king but happy very happy sir! Because I work hard. Unusual thing to do for kings hahahaa!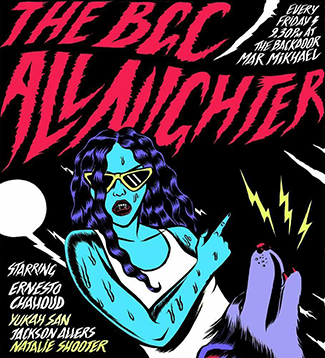 Tell me about The Beirut Groove Collective?
The Beirut Groove Collective started 9 years ago as answer to mainstream clubbing life in Beirut. First we started in warehouses and abandoned building and factories. With the help of Jackson Allers and Natalie Shooter it became one of the best underground nights in the region. The New York Times picked as one of the best ten nights in the world. A strictly 45s night specialized in 60s and early 70s obscure and rare clubbing records from 60s garage to deep funk to Ethiopian, Lebanese and North African music.
Apart from the BBE compilation, what's coming up for you in 2018, any tours or parties around the world where people could come and see you play?
The comp will be released on the 16th of February and it is followed by a tour with J.J. Whitefield in April and March. We have gigs in Europe, China and of course Beirut. All of our dates can be found at BBE Music website. I am really looking forward to this release and the tour. Touring with Jan is an ultimate pleasure! We will be playing all sorts of obscure and hard hitting records. So far, every time we've done it has been a success, and big fun!
You are good mates Keb Darge, another unique character and seriously knowledgeable collector, do you have an inner circle of visionary people where you trade records, discover things etc?
Kebbie, is a very good friend and a family to me. I love him to bits and I do learn a lot form him about 60's Garage and Northern Soul. He is into garage now and he released a Garage Comp with Cut Chemist last year. I trade records with Keb, J.J., Habibi Funk and Guy Dermossessian.
And lastly, what plans do you have for the future, where do you hope music will take you and what might you want to achieve next?
I am planning to hit Sudan next. Now Taitu is out, I have been working on a Lebanese 60's stompers comp for a while now which should be ready after Taitu. Exploring more 60's Garage. I am also starting a monthly radio show for NTS from Beirut. Keep on doing the Beirut Groove Collective all-nighters with Jackson Allers and Natalie Shooter. Be a full time music man I guess….
Many thanks to Ernesto, and big respect.
Look out for Forty Five Corners #3 coming soon.
Pete Isaac - January 2018
2018 Tour dates
3rd March
Dublin, Sugar Club

10th March
Basel, Kaserne

16th March
Dortmund, Rekorder

17th March
Hamburg, Pudel

23rd March
St Gallen, Palace

24th March
Winterthur, Kraftfeld

13th April
Shanghai, Dada

14th April
Beijing, Dada

20th April
Beirut, Backdoor

Links
Taitu compilation LP:
www.bbemusic.com/downloads/taitu/ or buy on JUNO
Ernesto Soundcloud
Ernesto Twitter
Ernesto Mixcloud
Beirut Groove Collective on Facebook