Forty Five Corners No. 3 - Syd Def Jam
21st February 2018
45 Corners #3
Russell Cole - Syd Def Jam
Sydney, Australia
I first covered the Syd Def Jam 7" dinked 45 adapter on the 45 Live website back in June 2016 after spotting it somewhere online and immediately recognized what a game changer this adapter was likely to be, even though at that time I had not actually held them in my hands, let alone used them in a DJ set. But once I had a pair (naturally stamped with 45 Live!), that prediction has proved 100% true. Never has one played a 45s set with the kind of confidence that these adapters bestow upon you. The ingenious design from inventor Russell Cole is so simple it's a wonder it wasn't done decades ago, but like many great inventions, until someone comes up with it you didn't even realize the problem it was solving. Sure, dinked 45s adapters have gone through a multitude of designs, using various materials from plastic to metal and taken many forms from utilitarian to novelty. Yet no one had thought of the rubber O ring clamp that cleverly and subtly nestles at just the right height to hold the 45 down and improve some bass response to boot. If like me, you are even slightly heavy-handed when mixing, the Syd Def Jam's will pretty much eliminate jumping tone arms and keep the record safely in place. They have become as essential as a pair of Technics 1200's, there really is no alternative. Russell's invention has gone from strength to strength, with DJs all over the world now sporting a pair. I'm not sure how many of the 45 Live crew have now got them, but it could well be all of them!
So who is Russell Cole? If his social media feeds are anything to go by, he's an anarchist hip hop freak with a 'do it' attitude. He's also someone who seems hell-bent on perfecting the very best portable bicycle-powered PA/Decks set up, peddling all over Sydney taking the block party to the people. Mad professor? Agitator? Party-starter? Nerd? Most likely a combination of all of that, so with the risk of being told to sod off, I wanted to find out a little bit more about life in Sydney, the development of the adapter and if there is another game changer waiting in the wings?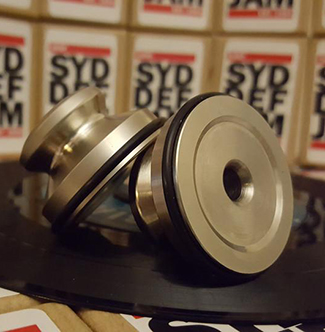 Hi Russell, I guess we should start with the 45 adapter and the lightbulb moment. When and how did you come up with the idea? Was there an inspiration from another completely different product?
I was talking to DJ Shan Frenzie (Groove Therapy Radio Show 2SER) and he told me that he and everyone were looking for heavier adapters. I then had the privilege of watching him do a dope set at the 2016 NSW DMC comp in Sydney and he did the set using 45's. My light bulb moment. That then inspired me to make him a set of dinks - heavy ones. But then I had a few 45's at home and tried fucking around with them and found I was much too heavy-handed to use 45's. It got me thinking, I went to the kitchen got an elastic band and put it on the adapter just shy from the bottom so that I could apply weight to the 45 and hahahahaha look out. I started beat juggling, cutting and mixing 45's. Same as in the "OLDEN DAYZ" and putting a coin on the head shell to hold the needle on the record - put a weight on the 45 to stop it slipping. So now it was to get the weight just right. I did that by weighing a heap of 12"s and 7"s and making up the difference in weight. I think this makes a 7" feel like a 12" on the decks so if you are using my adaptor on the dinked or un-dinked 45's they feel the same as an LP.

Did you experiment with types of metals/alloys?
No, I did not experiment with metal/alloys because I had brass at my disposal and new the harmonic properties of it and it has a good weight.

Was the take up by DJs instant? When did you realise that you had got it so right?So the next day after using the elastic band and weighing some records. I hopped on a lathe and made three sets of adaptors the same as what is now selling. I gave a set to Shan Frenzie and a set to DJ MK1 (Another dope 45's DJ in SYD) and asked them to give it a go and the rest, as they say, is history.

One tiny downside of the Syd Def Jam's is that you can't just throw a 45 over the adapter for fast changes, not much of an issue but it has been mentioned in various places. One idea I had was 3 or 4 equally spaced retractable ball bearings at the height of the o-ring, like you get on a small cupboard door, so as you push the record down over the adapter, the ball-bearings go in and pop out again once the 45 is down, clamping it in place. Much harder to make I guess! Have you considered solutions for this?
Well, The SDJ Adaptor where made to be used on dinked and un dinked 7" vinyl or on 12" It's more of a stabilizer. I'm no DJ but when I pay I like both decks to feel the same. So if I'm playing 45's I use it on both dinked and undinked 45's. I'm really heavy handed.

I imagine you are shipping them worldwide, how successful have they become to date?
Yes, I am shipping worldwide, and the L.O.V.E it's been getting is freaking me out. Especially because I think it works and so many of you guys, the DJ's, the top DJ's are using them.
What was the thinking behind the slightly lighter Syd Def Jam adapters?
We are very lucky in Australia to have a lot of dope ass DJs. I sent a set to J-Reddy in BURN CITY (Melbourne). He got back to me and asked if I could make him a lighter pair because he found them a bit too heavy to do spin backs with when he was beat juggling. Took us a bit of fucking around but we got it to a weight that he liked. Not too heavy and not too light.
Obviously, you must have been spinning 45s to have even begun to solve the problem that these adapters so ably do. What's your background in DJing?
OK, now to the hard questions. HAHA!! Firstly I never played 7s (45s) only 12"s and L/Ps. I started DJing in the early 80's in my bedroom. Then took it to the streets.
So is there a big 45s scene in Sydney?
It seems to be getting bigger and bigger.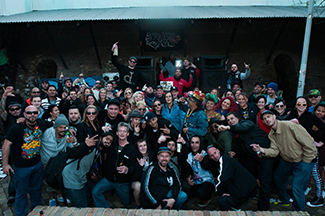 The block parties you do seem to be a regular fixture around the city, what's the background of those and what kind of response do you get from them?
Well SYDNEY DEFINITELY JAMS (not inspired by DEF JAM RECORDS - mad respect to Def Jam Records). Back in the early 80's when breaking and popping first started in Australia, we would go out into the city busking. Same as what was happening all around the world at the time. We took out our Ghetto Blasters and linked them up so that they were loud. We spent all the cash we made on batteries. At this time I had a set of 1200's that DJ A$, DJ OZZYBOY and myself were jamming on at my house. One day we found a powerpoint at Circular Quay in Sydney. I decided I was going to take my decks and speakers out instead of us taking ghetto blasters. Turned out to be dope so just kept doing them and the jams got bigger. Then we got our hands on a generator. HAHA we were then Mobile STREET DJs. Stopped doing jams like this in the late 80's. Then in 2013 needed to go through my midlife crisis and embarrass my kids. I put a rig together and started jamming in the streets again. The response has been good and I seem to be getting all the old heads out of the closet and bringing it to the new.
Is it easy to set up street block parties without getting moved on or hassled by the authorities then?
HAHA Well I'm known for doing what I want when I want no matter the cost. I often get fines and moved on. But in what I think true HIP HOP and SOUND SYSTEM Culture. AND WE DON'T STOP!!!!

From what I can see in your social media posts, you seem to be perfecting a bicycle-powered DJ rig. How and why did this come about?
HAHAHA!!! like I said, embarrass my kids. Just getting old and trying to get a rig together that sounds good and that is mobile and must have 1200's.

They may have been embarressed at one point, but I suspect your kids probably think it's really cool now! Most DJs I know that have older kids, they all seem to be very highly musically schooled, a point of pride in those DJs! My daughter (who's 21) has wicked tastes in music. Are you hoping to pass the baton on to your kids?
Well my son is 27 and he has been resisting. Last year he started buying some records then can over and tried to claim a set of my decks. So Daddy Hooked him up. I'm very proud of my KIDS.
Are you always inventing things?
I wouldn't call it inventing thinks as much as keeping myself busy. I love doing all sorts of things.
Anything DJ related currently being dreamt up?
Yes. A way to jam out in the streets without being told to turn it down and it's not by getting everyone to wear headphones!
I hear you, silent discos are wack! Thanks for talking with me. We'll look forward to the next must-have piece of 45s kit that you come up with.
Links
Got your Syd Def Jam's yet? No, well what are you waiting for?! syd-def-jam.myshopify.com/
www.facebook.com/syddefjam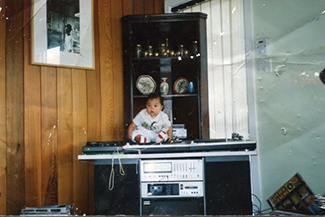 Russell started young...!