Forty Five Corners No. 4 - Adapt & Survive
12th June 2018
Forty Five Corners #4
Adapt & Survive
For the latest edition of Forty Five Corners, we continue on from our last feature on Syd Def Jam with what seems like world war 3 over 45s adapters at the moment. It's a case of 'how many ways there are to skin a cat', the limitations of design might appear simple – the hole dimensions are fixed – but the options span the vertical height, weight, and construction material, so what might have seemed simple is not so obvious.
Of course, an adapter for your dinked 45s is an essential piece of kit, as essential as the turntable really. The myriad of adapters out there all serve the same function essentially with 2 main types, slip the record over or clamp it down. So for this piece we're going to look at some of the best adapters on the market right now.
Note: we're not including the larger record stabilizers in this piece, even though many DJs use them. This is about adapters for dinked records only.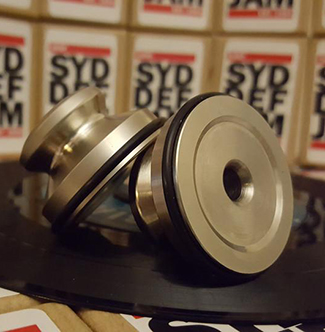 1. Syd Def Jam. (132g & 94g)
We don't really need to cover Russell's invention anymore as we've said it all already. If cutting up 45s is your thing, then a pair of these will NOT let you down. Now available in 2 weights, with the lighter pair enabling spin-backs more easily. Most if not all of the 45 Live DJ crew use SDJs, so that is recommendation enough!
Available direct from Sydney: https://syd-def-jam.myshopify.com/
And now available from the UK through Waxnerd's Mark Newby
fatwax45@hotmail.co.uk / Tel: 07939 596248 / Instagram: @fatwax45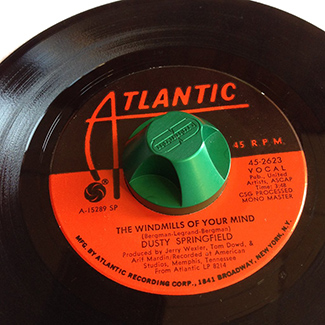 2. WaxRax. (34g)
Have to say these are absolutely gorgeous! Much more a classic design in the fact that you can slip your 45s on and off without having to remove the adapter. CNC milled to RIAA specs from solid aluminium and available in seven lovely anodized colours, these babies are perfect for quick changes and essential for DJs spinning reggae on one deck. The shape is also very ergonomic, the 3 finger grooves in the sides enabling sure handedness when removing from the turntable. They have absolutely oodles of style too.
Waxrax also do a line of record shelving for your LPs, they are super expensive but beautifully made and very desirable indeed. Are there shelves coming for 45s I hear you ask? Let's hope so. I'll be in New York later this year and plan to visit the Waxrax lab, so will definitely discuss 45s storage with them!
Available direct from New York: waxrax.com/products/45a-45-record-adaptor
Also available from Juno Records in the UK: www.juno.co.uk/products/wax-rax-45a-45-rpm-vinyl-record/639700-01/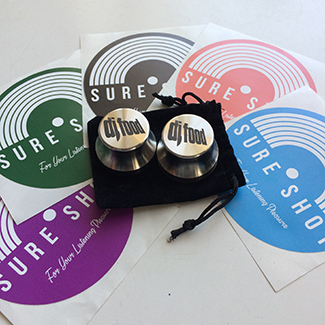 3. Sureshot. (163g & 110g)
Over in Poland, Sureshot are making super nice solid and very heavy adapters with the added benefit of custom manufacture with your logo/name printed on the top. Their classic tall adapter design enables you to get an easy grip on it, and its substantial mass means there will be zero slippage. It's a lovely adapter that feels great in the hand and looks the business on your turntable.
They did recently announce a new adapter that was very similar to the Syd Def Jam, complete with rubber O-Ring. It caused quite an up swell of vitriol directed towards Sureshot, with their facebook page getting many angry comments, not least and understandably from Syd Def Jam themselves. Sureshot were quick to point out that their design was different in dimensions, material etc, but because the SDJ was and is such a unique game changing design the criticism was understandable. Sureshot are going to release limited numbers of their version of this concept, meanwhile they are designing a new adapter aimed at scratch DJs, without the rubber O-ring, so we will be very interested to see this design when it appears.
It's a difficult subject to be fair, with intellectual property violation disputes possibly ending up in court costing all parties concerned many thousands of pounds/dollars to settle. And in this instance I can see both sides of the argument. Take for example a car tyre, its job is to fit on a wheel and go round, yet there are many companies all making them that all do the exact same thing with the only differences being tread pattern and rubber compound. Are these companies arguing about 'their design' or going to court to sue each other? Maybe that can happen occasionally, but the point is people make products that are very similar to other products on the market.
There are many dinked adapters out there made by different manufacturers that are very similar to each other. Maybe Syd Def Jam should protect their unique design as it's not inconceivable that another company will also take their concept and manufacture it, and not bother to take to heart the criticism and limit it as Sureshot have admirably done so. Saying that, and to be fair, the concept of including some kind of incorporated clamp into an adapter can't be for the sole use of Syd Def Jam in perpetuity.
Buy here: www.ebay.pl/itm/45-RPM-Adapter-Centre-for-7-Vinyl-Records-Stainless-Steel-160g/273087791885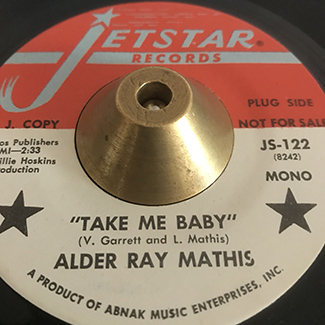 4. Brass! (47g)
Have to give a special mention to these brass adapters, I can't remember where I got them and have had them for many many years. Well, at least until I lost one! Up until I got these, I had used the basic flat plastic adapters, then the virtually weightless plastic cones, and basically made do, so these were a revelation at the time.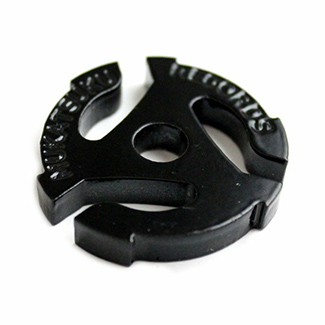 5. Mukatsuku. (30g)
Mukatsuku do a pretty substantial range of adapters of varying designs, weights etc. But this is my favourite for sheer cool points. Based on the classic plastic adapter that generally came free with new 45s throughout the 70's/80's, this ups the weight and depth and looks absolutely brilliant!
Buy here: www.juno.co.uk/products/mukatsuku-branded-bespoke-black-pattern-2016-45/608620-01/
6. 45 Central Bullet. (45g)
45 Central have been making top quality adapters for a good while and enjoy a solid reputation for super reliable performance with plenty of advocates across the world. They make a range of shapes, all made in heavy high grade solid aluminium. I have never personally owned any of their adapters but can confidently project that you won't go wrong with a pair of these.
Buy here: www.45central.co.uk
7. Union Products (Japan). (27g)
The greatest DJ on the planet, DJ Koco, uses these Union Products adapters. His touch is so deft that he could probably DJ with adapters that weigh 1g and he'd still be amazing.
Buy from Japan
www.rootdownrecords.jp/goods-accessory/union-products-45-adapter-black-set-2.html
Buy from the USA
www.turntablelab.com/products/union-products-jp-45-adaptor-turntable-lab-edition-black-single?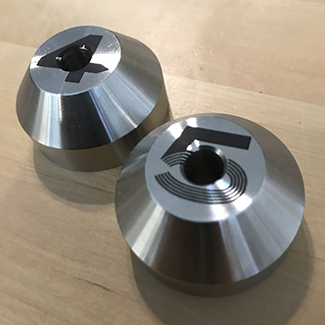 8. The 316. (147g)
More customisable adapters here from Simon at The 316 (who also makes a damn fine bread!). The 316 is made from stainless steel 316, the best stainless steel available. It is durable, dense, heavy and 100% non magnetic. The sizing ensures a super snug fit too, the 45 literally slides over in slow motion, meaning zero movement/wobble that will help you if juggling 45s. The considerable mass also means you can use on slightly dished small-hole 45s for stability. For an extra £5, you can add your name or logo, beautifully etched in the top. Quality!
Buy here: www.the316.org.uk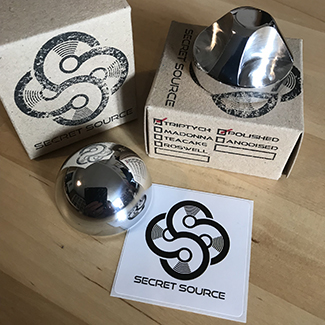 9. Secret Source. (Teacake 49g, Triptych 35g)
If it's polished adapters you are after (Anodised option available too), then these Secret Source models shine nice and brightly. With 9 shapes to choose from, there will be a design for you. The 3 finger Triptych, like the beautiful anodised WaxRax and the Union Products designs above is ergonomically the best one in our opinion, but maybe without the finesse of the WaxRax, but this is down to aesthetics and personal preference, you could well prefer the highly polished style of these Secret Source ones. Very reasonably priced too, £12.50 each with FREE UK shipping is not bad at all. On a performance level, these will act as all the 'slip-over' adapters do, ease of changing 45s without having to remove the adapter. So if you are a selecter as opposed to a beat juggling jock, then these are another worthy option in the ever increasing panoply of adapters out there right now!
Buy here: Instagram @secretsource45 / email: SecretSource45@Gmail.com
10. Tucker & Bloom. (coming soon)
We've got wind of an adapter that is changing the game again! Full details coming soon.

So there we have it, 9 adapters all of which will cover your dinked needs beautifully. There are tons of other adapters out there but not really aimed at DJs. Basically what you need is a nice weight for confidence and if scratch DJing then the Syd Def Jams are your best friend if we were to recommend one.
Further adapter focused reading
http://dj-spyder.blogspot.co.uk/2007/11/45-rpm-adapters.html
https://soundseen.blogspot.co.uk/2013/08/the-mystery-in-middle-of-7-inch-single.html