Pete Isaac's Diggin' Tales
12th January 2015
Diggin' for records is one of the rights of passage for any DJ, well, it used to be. Now that the internet is here, the ease of finding music you want is a doddle. Discogs, eBay etc at your fingertips makes tracking down a particular 45 a simple affair, tippity tap away in google and 'wham' there it is, pay your money and wait for the postie. But there's something special about finding records the old way, analogue stylee, putting your health at risk maybe, and who here has had the scuttling cockroach moment? I know I have in a basement in New York! 'in the field' digging is where you find records you didn't know you wanted, records that are unknown (if you're lucky), and records for way cheaper than they should be (if you're even luckier). Of course it can be massively frustrating sifting through a ton of vinyl and finding nothing, but unearthing a rare dance floor bomb for 50p can literally make your year.
These days for me personally it's the e-digging that dominates my record purchases, getting out and getting 'dusty' is a rarer occurrence. Before family and work took over though, the vinyl radar was on constant rotation and I certainly racked up some flying hours in the pursuit of records. Yet I don't class myself as a really serious digger, there's plenty of people who go the extra mile (or thousands of miles) to unearth records, people that travel to remote areas of countries or neighbourhoods that aren't partuclarly safe. I've heard a story of a British guy being escorted out of a district in Atlanta by gunpoint because 'you're not allowed to buy our records' for example! Massive kudos to these people who make digging an artform, the people that really do bring forgotten records back to life and sometimes revive a musicians fortunes in the process. I'm looking forward to reading more digging stories in the 45 Live Magazine, and I'm still entirely optimistic that one day I'll happen upon a box of killer funk 45s in a junk shop for £5. It could happen!
Over the years particular records that come into your life will have a little back story and ignite memories, here's a few of my favourites…
Preston Love
'Cissy Popcorn'
(L.E.M. France)
I'm actually going to start with an e-dig! I became aware of this rough funk groover many years ago after getting Preston Love's 'Omaha Bar-B-Q' LP on Kent. Of course finding an original 45 of 'Cissy Popcorn' in Devon was always going to be highly unlikely, so about 10 years ago I set about scouring the internet and found a copy for sale in Japan of all places for a ridiculously low price. Until it actually arrived in the mail I was unsure if I had been conned! It was found from a shop that had it's stock listed on a word or pdf file rather than html so was never going to come up in a search, the shop was also on page 20 or something in the search results. That process of finding lists deep in the internet was a great tactic and has proved very fruitful since.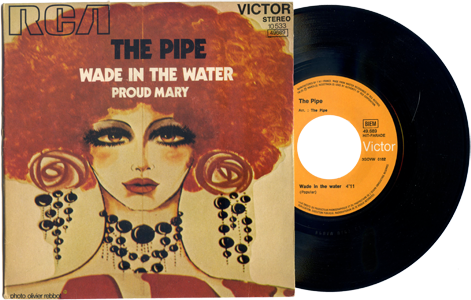 The Pipe
'Wade In The Water'
(RCA France)
Back in 2004, I went on a solo cycle tour in France, going from Roscoff and heading to Spain. As I progressed through France I was always keeping an eye out for digging opportunities and when finding stuff would package it up and post it back home before continuing on. In southern Brittany I rolled into a town for lunch, and whilst looking for a place to get some food, I walked past a used book shop and causally looked in the window and spotted some boxes of 45s on the floor at the back of the small shop. It was closed at the time, but I made the right decision to wait for a few hours until the owner got back from his own long lunch. There were about 3 boxes of 45s, maybe a few hundred records in total, and I didn't really recognise any of it. It was case of picking out things that had promise through song titles, labels etc. Now, 'Wade In The Water', I knew that title very well, but had never seen this version. Amazingly the shop owner had a record deck set up so was able to ask to spin a few records that I'd selected and this went on first, and that joyous feeling of striking gold hit immediately. A wild version, Afro flavoured, mental hammond and a killer percussive break down at the end, a total BOMB! And when back in the UK a few weeks later, it became apparent that no others DJs (that I knew anyway), were aware of this record either. So it was a little victory in some ways, a re-discovery and is a much prized 45.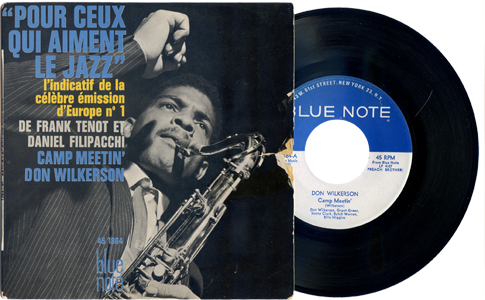 Don Wilkerson
'Camp Meeting'
(Blue Note, France)
This is probably my most favourite 45 that I own, and was bought in the same bookshop in France! It was an obvious pull too, Don Wilkerson 'Camp Meeting' on a Blue Note 45, with a gorgeous picture sleeve, it's a thing of beauty and a deadly dance floor jazz cut, what's not to love? I bought a handful of 45s in that shop as the owner would only let me play a few, they were all good and very cheap. I still feel a little sick that I probably missed a load more gems in those boxes!
Justin
'Right Now'
(Down East, USA)
Here's one of my best (if not the best) car boot finds from 18 years ago in Plymouth, UK. A whole 10p this cost me, and was part of about ten or so 45s that I bought from the same seller, they were all 10p too, and all soul 45s. I didn't know any of the records so all were blind buys, they looked like funk 45s, US labels etc but at 10p each, it wasn't really a risk! I actually wasn't that impressed once I got it home, my tastes at that moment in time didn't really include obscure soul stuff. So it went into the crates and basically got forgotten about until a year or 2 ago when I was having a proper go through my records, I then realised that I'd been sitting on an absolute belter of a 45 and criminally not been playing it out!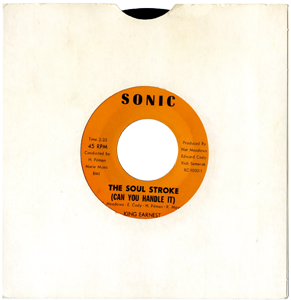 King Earnest
'The Soul Stroke' / 'You're Gonna Miss Me'
(Sonic, USA)
This double sided monster came to me in Los Angeles in 2001. I spent the summer in California with the family, based in Santa Barbara, so had plenty of opportunity to go and look for records. Bizarrely in the first 5 weeks there, I didn't really find anything to go nuts about, just half a box of decent jazz, soul and funk LPs from various thrift stores and yard sales, nothing particularly rare or obscure though. But at the end of the trip I hooked up with a guy from the Soul Strut forum and headed down to LA for a weekend of digging. We happened to choose a weekend when there was a record fair on down in Anaheim, so we rocked up there and struck a LOT of gold. I was actually amazed, not at the possibility of finding good records, but at the prices. I assumed it would be expensive being full of dealers, but the opposite was true. I bought more records there than the rest of the summer combined. When this 45 got spun on the deck, heads were blown and a measly $20 was dropped on it. The BEST record from that trip.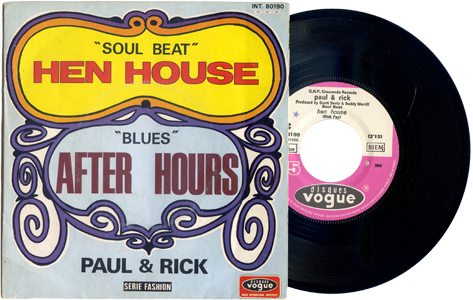 Paul & Rick
'Hen House'
(Vogue, France)
Back to France now, and the same 2004 cycle tour. This one was from a small roadside junk shop on a country road, in a suitcase of records outside the shop in full blazing summer sunshine. I didn't even have to get off my bike to flick through the records. Another blind buy, but once again, it cost pennies and is a wild jazzy rhythm and blues groover. A record I didn't know I wanted!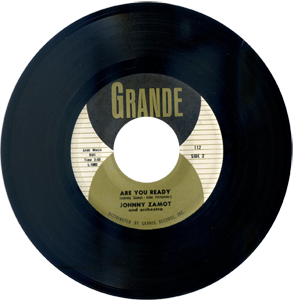 Johnny Zamot
'Boogaloo Frog' / 'Are You Ready'
(Grande, USA)
This kicking boogaloo belter was found in New York way back in 1998…. from where exactly I don't really remember. It could have been from A1 Records on the Lower East Side, or it could have been from the cockroach inhabited basement I mentioned in the introduction to this piece. But it was yet another cheap 45 and bought not particularly knowing that it was rare(ish). Both sides are killer, 'Boogaloo Frog' is just a monster boogaloo tune whilst 'Are You Ready' mixes a treat with D&B in more freestyle DJ sets. That whole NY digging trip was brilliant, myself and 4 other Brit DJs maurading around New York City with money to burn on records, what a blast.