SCORCHING HOT: THE MAGMA RIOT 280
15th September 2020
Ahem. The evolution of the record bag has been over a century in the making because when the first phonograph disc was invented by Emile Berliner in 1887, others started to think about how to transport those discs.
From ornately carved mahogany crates to the admittedly useless polished marble shoulder bags, various materials were being experimented with to aid any journey that the recorded music might need to embark upon.
But it was when sales of music on disc started to overtake cylinder sales around 1910, especially on 78s, that heralded the birth of the DJ. With the release of Madam A. T. Winslow's 'Patent Technics Double Phonogramophone' and the pioneering steam-powered stereosound-o-scope audio mixers, many young ladies and gentlemen flocked towards this new pursuit, much to the dismay of their Georgian elders who remarked that "this new fangled dancing music was just noise".
These early disc jockeying trailblazers would often complain about how to transport their DJ sets to the burgeoning Phonographic 'raves' of the period because the shellac discs were unbelievably heavy. Many would use horse and cart such was the weight, others employed servants to help carry the music.
We spoke to Boca 78 of the shellac-based celebratory team '78 Live', and asked him what it was like in those early days, he says "after a few years hauling my 78s to music halls around the country to drop some classical bangers, my lower back was absolutely knackered", so it was obvious that something needed to be done to aid DJs carrying their wax to shows.*
*ok, we made some of that up.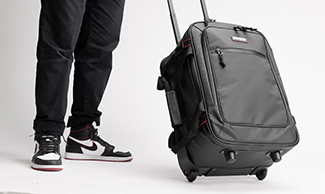 Fast forward to the actual 1970s, and modern DJs were using such things as repurposed wooden crates, huge handmade wooden boxes, card and plastic flip boxes or genuinely lovely wooden boxes with Bakelite handles. Then once we were into the 80s, box/bag manufacturers must have looked up the word 'ergonomic' and applied this ethic to their designs because that is when DJs were given some actual decent choices for carrying their vinyl to gigs.
If I think back through my years as a DJ it went something like this: 1989 was a 100 x 12" silver crate which was stupid heavy, then I dropped down to a 70 x 12" box (still using it!), and for my 45s first came the cheap card/plastic box, then a double row flight case which I used for a long time, but it was quite heavy when stuffed full.
Then came a Gravis 45s bag that was an insert to a gigantic piece of DJ luggage that had a 12" vinyl section that carried maybe 100 records, space for all your clothes and the 45s bag sat on top. It was quite ridiculous and I only used it once for a DJ tour to New Zealand. The 45s bag itself was almost perfect though, so I got rid of the rest of that bag system and just kept the 45s bag, reinforced it with some thin plywood and had a lightweight 150 x 7" bag that performed well, albeit a bastardised effort, much better to have an off the shelf version that took around 150 45s.
Then I got a Tucker & Bloom Rich Medina bag, I won't talk about that bag too much in this piece, except to say it's an expensive yet gorgeous thing of craftsmanship. Which brings us almost up to the present day.
A couple of years ago I got my first Magma bag, the Dusty Donuts 150, and I've been using it lovingly ever since. It's just an excellent design all-round, carries a decent amount of records and is hand baggage friendly. A few DJs I know who used to swear by the Magma Riot, a super-duper-padded bag, now use the Dusty Donuts bag. Yet throughout recent years in various random chats with DJs on the subject of bags, one desire is often mused about, that being a trolley bag for 45s. DJs that spin 12" vinyl have been catered for for a long time, but not us 45 slingers. Why?
Maybe the market was seen as too small to develop something like this? Maybe the design of such a thing was difficult to overcome? Maybe it's both of those reasons and more, but with the ever-growing number of DJs forgoing digital and returning to wax and specifically 45s, the time is now to have that much dreamed about trolley bag for sevens.
Ladies and gentlemen, trade-in those 78s, throw the memory stick in the bin, dig out your 45s and wrap them lovingly in your new Magma Riot 45s Trolley 280.
"This bag is quite simply the boss"
Magma has spent a lot of time developing this covetous piece of DJ luggage, employing their much-lauded expertise in wrapping your prized records and equipment safely AND stylishly, and coming up with a trolley bag that exhibits confident design, ergonomic perfection (well almost, I'll come to that shortly) and creating desirability amongst 45s heads that will likely be very considerable. I know this to be true because when Magma informed me that they were sending a sample, I was very very excited.
This bag is quite simply the boss. Housing a whopping 280 x 45s if filled up, with space for your headphones and carts, laptop, spare T-shirt and toothbrush. 280 x 45s is a fair old weight of vinyl, so naturally, the case has substantial wheels and a strong retractable handle (which is nicely hidden behind a zipped flap for stowing), plus extra straps to wrap around the bag with strong clasps so the main zipped opening flap isn't stressed too much by the weight of the records, you can also tighten them so everything inside is nicely prevented from moving about.
There's also a top located carry handle and bigger strapped handles on the side giving you 3 ways to cart/carry this bag. Another important consideration is the base; opposite the wheels, there are 2 very chunky solid feet that are not going to give way when the bag is full, if you're shuffling through airport or station queues, the last thing you want is your trolley bag falling over all the time.
So, what about the vinyl storage? A little like the colossal and impractical Gravis bag I mentioned earlier, the Magma Riot 280 features a removable insert for records. Let's face it, you're generally never going to be able to rest the whole bag on a shelf next to the decks, nor would you want to. So, Magma has designed the removable insert to be as minimal as possible. No need for this insert to be padded as the main bag does all that work. You can simply open the Riot Trolley, lift out the insert by the heavyweight handles and place conveniently next to the decks for your set and stash the main bag away.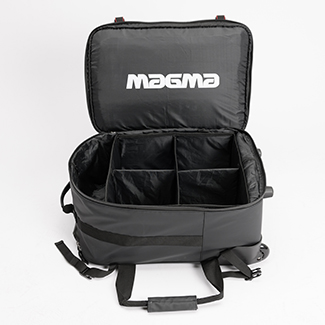 Yet this is where my one criticism of this bag lies. The removable insert is still fairly big, 15 inches square, meaning there are going to be occasions in some venues where space is tight in the DJ booth that this could be tricky to site for access whilst spinning. Also, when having records half out at an angle when building selections means flicking through the side-by-side rows could be fiddly.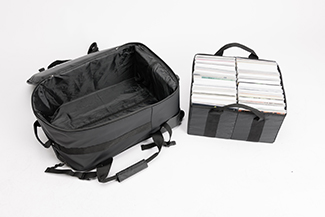 Hence I would suggest that the insert is simply in 2 parts, 2 x single row inserts with fold-over lids for the short journey between hotel and gig, then you could place them either side of the decks. You then leave the main bag at the hotel as all the main protection and ease of travelling has already been catered for.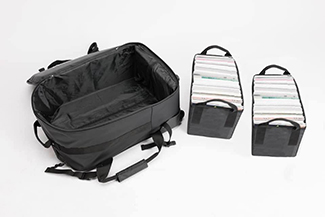 (45 Live representation, NOT actual product)
For me personally that would take this bag all the way to 100%. You could also just take one insert on a tour and have more space in the bag for your clothes? Indeed, taking no records means that this bag can be used as a piece of normal luggage, and a gorgeous one at that.
Setting that criticism aside, this bag is the answer to many a DJs prayer, travelling easily with a load of vinyl and doing it in class. Over the last 5 years, 45 Live has been running stages at various festivals, usually with 2 of the crew as 'residents' and other 45 Live crew DJs guesting each night. For the resident DJs, that meant bringing 2 or 3 normals bags of 45s to be able to mix up their sets, have plenty of choice etc, so with the Riot 280, everything can go in one bag. Also for DJs that like to play long sets - Andy Smith is a prime example here - this bag is going to be a treat to employ. In fact, for every working 45s DJ, this bag will likely be one to add to the arsenal of bags we all must surely have.
"No one bag/case/box is perfect for every occasion"
Weighing in at roughly 20kg when packed with records, it's a manageable weight if you have to carry it for short periods, but when it's gliding along on its chunky wheels, you're going to reach gate 539 without a single bead of sweat on your forehead. Why is it always the last damn gate btw? It's usually a 5-mile walk from the check-in desk!
No one bag/case/box is perfect for every occasion, but when you need to make sizeable journeys carrying a significant amount of records, then the Magma Riot 280 is the one, in fact, it's actually the only 45s trolley bag out there. Thankfully Magma has nailed it (especially if they make the insert into 2 separate rows), and it will join my expanding family of record bags to be used when the need to haul this many 45s arises, whether that's for a 5-hour set locally, or off on a DJing jaunt overseas.
SPECS
Crafted from hardwearing and 100% waterproof PVC Tarpaulin
PVC-coated (waterproof zippers)
Smooth rolling, precision inline wheels and sturdy built-in tuck away handle
Integrated PVC body, padded lid and bottom
Main compartment includes removable 45-record inlay that holds up to 280 x 7'' records
Lockable zippers on main compartment
Large front compartment with mesh organizers for cables and small accessories + separate quick access pocket for traveling documents
Rubber corner protectors
Integrated rain cover protects trolley handle access
For more info and buy links, head to:
www.magma-bags.de