Mukatsuku Records 45s Adapter Range
24th July 2019
Mukatsuku Records 45s Adapter Range
Back in June 2018 we featured an article called Adapt And Survive where we looked at the ever-growing choice of adapters for your dinked 45s. With manufacturers all over the world offering their take on what is actually a very narrow parameter, that is how to fill a hole approx 38mm in diameter. But there are 3 other areas of specifications available to expand upon, weight, material and shape, and this is where the myriad of differences between manufacturers are played out. With brass, steel, plastic, wood and aluminium, from blow-away to heavy-heavy-weight, and as many shapes as you can imagine. Plus the growing trend of customisation through printing, stamping and etching so you can have your name or logo emblazoned upon your set of adapters, there really is something for everyone that is aligned exactly with how they play their 45s.
We at 45 Live have long been devotees of Syd Def Jam and pretty much the whole crew use them, BUT, their USP is also their flaw, namely the rubber O-Ring that clamps down the 45. It's genius and works beautifully, but it doesn't allow for quick changes of record. Some DJs are going to prefer the quick change, we have all watched the vinyl alchemist DJ Koco create turntablist magic using his Union Products adapters, this perfectly illustrates the benefits of this type of design.
So step up Mukatsuku Records and their latest range of 45s adapters. As a label that specialises in 45s and is very active with their merch offerings, it's no surprise that they now offer a full range of styles and shapes. We take a closer look at what is available: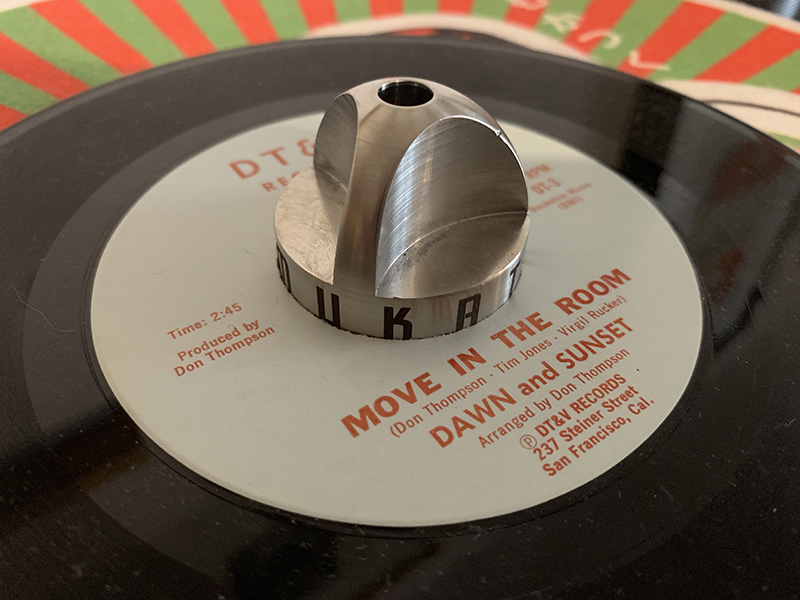 Easy Grip (120g)
Using the same 3 prong design most notably used by Union Products and Wax Rax, this is the one that stands out the most in this new range. At 120g it's super nice and super heavy so no 45s are going to slip under it, it's ease of removing or placing it on the deck is self-evident, and it's milled for a super tight fit for sure handedness when cutting up 45s. As with the whole range, it's etched with Mukasuku's logo too. Personally speaking, a pair of these to go with your Syd Def Jam's maybe adapter nirvana.
Buy: Juno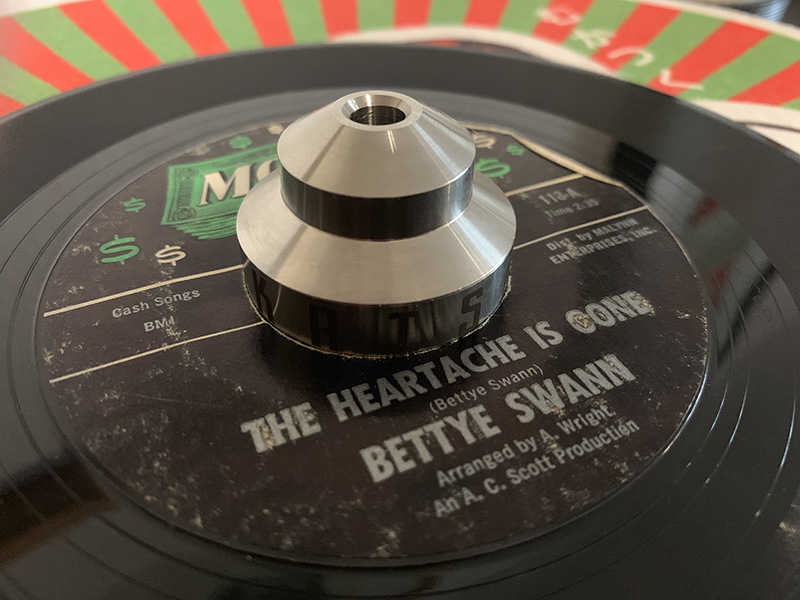 Heavy Easy Grip (144g)
In the dome territory, but this one features a stepped in top for getting a better grip on it. Weighing in at 144g and with the same milled perfection for confident vinyl manipulation as the above.
Buy: Juno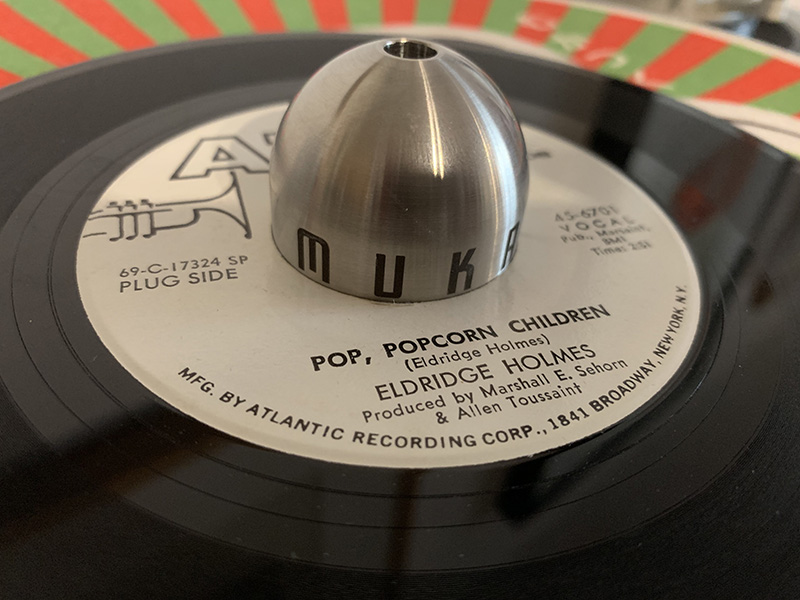 Heavy Steel Dome (185g)
By far the heaviest adapter in the range clocking in at 185g. These babies are adapter tanks, suited to selectors that never need to remove them during a set, and with the super smooth dome, your 45s can literally be thrown over them like a frisbee (which we don't recommend!).
Buy: Juno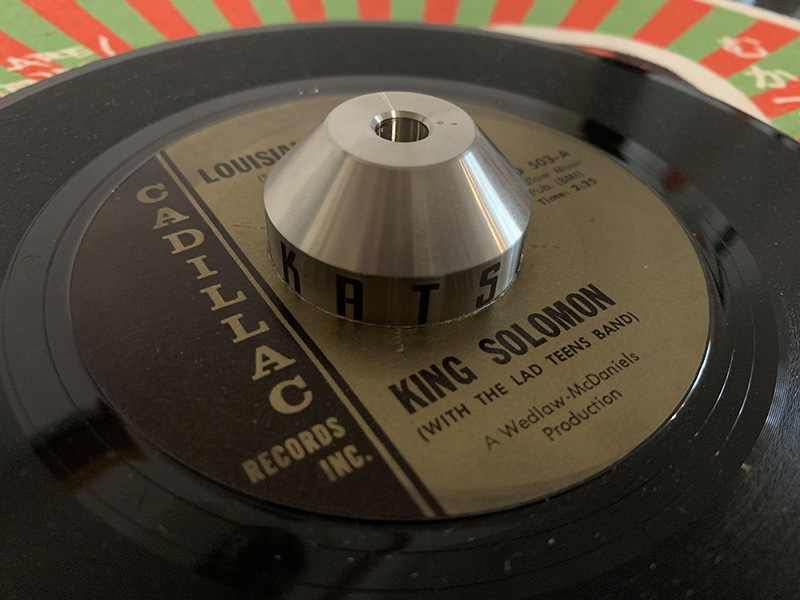 Heavy 45s (138g)
A classic shape, mid-weight (on the heavy-weight scale!), this one is a solid workhorse adapter. Once again it's precision milled for confidence and, to put it bluntly, it's just going to work, and work well.
Buy: Juno
Chunky Steel Spider (32g)
Based on the classic plastic adapter that we've all got lying around in high numbers, this one is purely a novelty adapter that's just kinda cool, but utterly useless for DJing with. One for the home deck where you are just 'playing records' and want to do it with a modicum of style.
Buy: Juno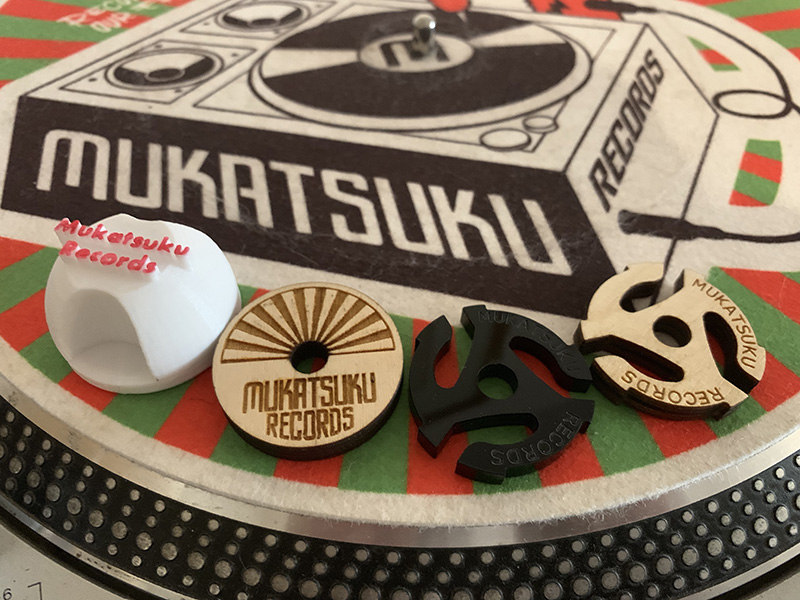 Various (weightless)
There's also a bunch of wooden and plastic adapters available, but as above they are really just novelty ones without any beneficial use for professional DJs, except, again as above, you need something to basically fill the hole to play a 45. If that is the usage required, then these are super cheap options. But maybe they should lose the plastic ones from the range now the world is waking up to plastic pollution.
So there we have it, a strong line up of adapters with the Easy Grip very much No. 1 in our opinion. With the multitude of choice out there, there's arguably 1 consideration that MUST be met in any adapter, and that is 'fit', the 4 main heavyweight steel adapters above all fulfill this need perfectly so if you're in the market for a new pair, then we can recommend these no problem.